Empower Your
Imagination
A video editor for all creators.
Watch the film
Filters, Overlays, Transitions and Custom Titles
Create Without Limits
Discover infinite ways to express yourself.
Achieve a refined look with endless effects.
MULTIPLE VIDEO IMPORTS
Ready for anything
Utilize up to 100 layers of media to
create complex stories with ease.
100 Video Tracks
Utilize up to 100 layers of media to create epic stories with ease.
Creative Effects
Apply transitions, motion elements, filters, and more to any video track.
Compositing Tools
Layer video clips and other media and apply effects like green screen, blending modes, and more.
SOUND TOOLS
Never miss a beat
Perfect your sound with tools like
and an audio equalizer.
keyframing, background noise removal,
Background Noise Removal
Remove unwanted background noise easily.
Keyframe Audio Editing
Make multiple volume adjustments within one clip.
Audio Equalizer
Fine tune your music, dialogue, and other audio clips.
Full 4k Support
Details Matter
Filmora ensures every frame of your
creation is as crisp as reality.
Fully Integrated 4K Editing
Fast Rendering
Filmora renders your videos quickly, even when
you're working with 4K footage.
High Resolution or Economical Preview
Preview your video in full quality to see every
detail, or reduce your preview quality for a smoother editing experience.
Fast Import and Export
Save time importing and exporting media,
including 4K video footage.
COMPOSITING
Beyond the basic
Create new worlds with compositing by
layering clips and using green screen effects.
Enhance your adventures
Stabilization
Eliminate the distracting effects of camera shake in just a couple of clicks.
Fisheye
Correction
Correct fisheye distortion caused by ultra-wide angle camera lenses, like those found in action cameras.
Detailed Speed Controls
Play your footage up to 100 times faster or slower, create freeze frames, and even play you clips backwards.
Perfect your look
Professional 3D LUTs
Change your video's aesthetic in just one click using high-quality color grading presets.
Advanced Color Correction
Control the colors in your video by adjusting white balance, lightness, exposure, saturation, and other properties.
Find the features you need
Filmora has everything you need to make
the kind of videos you love to watch.
Social Import
Import photos and video clips into Filmora from Facebook and other social media platforms.
Pan and Zoom
Add panning and zooming movements to your still footage.
1:1 and Portrait Support
Maker videos with aspect ratios of 1:1 (square) or 9:16 (portrait) with no black bars/frames.
Camera Shake
Choose from a variety of camera shake effects and apply them easily.
Audio Mixer
Adjust the audio of each individual track on your timeline.
Tilt Shift
Draw focus to one part of a clip by strategically blurring the rest.
Screen Recording
Easily record the screen of your computer. You can record from your webcam simultaneously.
Screen Detection
Have Filmora scan your clips for scene or shot changes and make automatic cuts.
Auto Crop/Resize
Automatically crop or resize photos to better fit your project.
Reviews from the media
"This video editor is easy for anyone to learn, even if they've never edited video before. "
"Wondershare Filmora is a superb video and slideshow editor that combines photos and video clips, then applies effects and filters to turn them into a mini shareable movie. "
" Wondershare Video Editor provides all the freedom you need to arrange clips and music with a wealth of available filters and transitions.This is a beautiful and capable piece of software. "
" Pleasing interface. Inexpensive. Lots of effects and overlays.Good title tool. "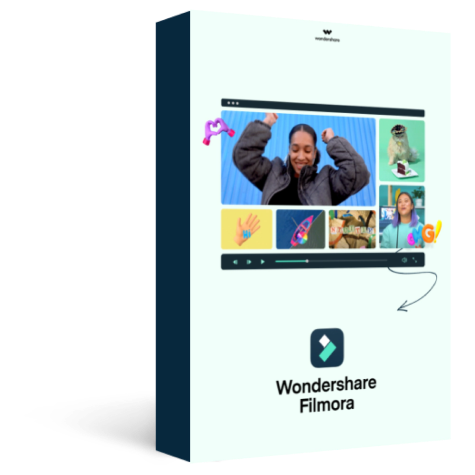 Download the free trial and start making your video!